Mobile Advantage
Mobile Advantage keeps you in control
Mobile Advantage is the ultimate on-demand service. With it you can now monitor your accounts using your mobile phone... receive alerts, view accounts, even transfer funds whenever you need to. Wherever you happen to be. You decide how you'll use it!
And you don't need Internet access on your phone to take advantage of Mobile Advantage. You can send a simple text message to:
View account balances
View transaction history
Message and data rates may apply.
If you do have Internet access from your phone, it gets even better. You can log on to:
View account balances
View transaction history
Mobile Deposit
Transfer funds between accounts
Even pay bills!
With Mobile Advantage, your information is fully secure
Mobile Advantage is as secure as a vault. With multiple layers of authentication, you'll never have to worry about the wrong people getting your information. A personal password and phone activation code keep your information safe.
Enroll Now
Mobile Advantage is available to anyone currently enrolled for our Personal Internet Banking service. To enroll, log on to Personal Internet Banking and select Mobile Advantage and then SIGN UP.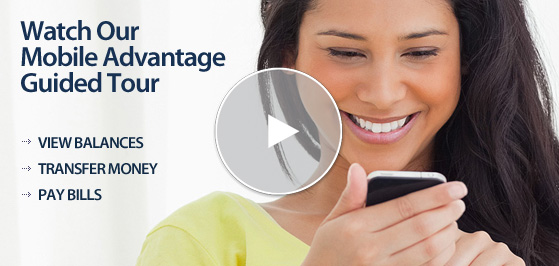 Download Our App
Just visit your App Store and look for Huntington State Bank.